COOK BOOK COMPANIONS
Got a shelf-full of pristine, neglected recipe books?
Find yourself cooking the same tried-and-tested recipes over and over again?
Want to be able to quickly find inspiration and in-season recipes to suit any occasion?
We've been through a number of our favourite cook books and classified every recipe for seasonality based on the key ingredients and the fit between the mood of the dish and the time of year.
Cook Book Companions maximise the usefulness of your cook books. Recipes are listed month-by-month and are sorted by meal type and key ingredients enabling you to see at a glance all the book's recipes that are best for cooking this month.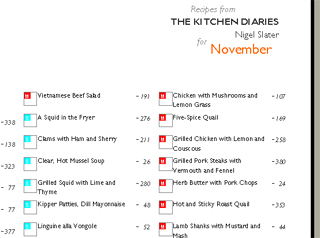 Using Cook Book Companions you can quickly find:
a starter using spring vegetables

a meaty main course for a summer barbecue

a cake for afternoon tea making the most of September's seasonal fruit

a comforting hot pudding for a winter's night
Cook Book Companions are e-books in pdf format and are available to download and print instantly. Priced at just £1.50 each they complement and reinvigorate your cook books by giving year-round recipe inspiration in an instant.
Click here to see a sample.
If you've got any of the following great titles (and if you haven't, why not?!), download Cook Book Companions now and add some loving food stains to those unblemished books!
Click on a book cover to view or buy the book on Amazon.