UK seasonal food information, tips and recipe ideas, updated every week
SEASONAL FOOD OF THE WEEK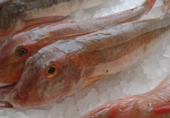 Gurnard is an odd (or, to be less charitable, ugly) looking fish: slightly bulging eyes atop a pointed snout wearing a sulky pout. It is perhaps these aesthetic qualities, combined with a skeleton not designed for easy filleting, that accounts for it's relative culinary obscurity.
IN SEASON NOW
beetroot, brussels sprouts, cauliflower, celeriac, celery, chicory, horseradish, jerusalem artichoke, kale, kohlrabi, leeks, parsnips, potatoes (maincrop), salsify, shallots, swede, truffles (black) [i], turnips
apples, blood oranges [i], clementines [i], kiwi fuirt [i], lemons [i], oranges [i], passion fruit [i], pears, pineapple [i], pomegranate [i], rhubarb, satsumas [i], tangerines [i]
almonds [i], brazil nuts [i], walnuts [i]
duck, guinea fowl, hare, mallard, partridge, turkey, venison
clams, cockles, dab, dover sole, gurnard, haddock, halibut, hake, langoustine, lemon sole, lobster, mackerel, mussels, oysters, red mullet, scallops (queen), sea bream, skate, turbot, winkles
[i] denotes imported produce
For information on seasonal food in the USA or Canada, please visit our sister site.