UK seasonal food information, tips and recipe ideas, updated every week
SEASONAL FOOD OF THE WEEK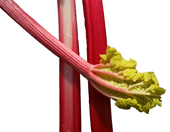 The outlandishly coloured vegetable that thinks it's a fruit. Rhubarb makes deliciously comforting puddings but its sharpness works extremely well with meat and oily fish dishes (the duck recipe below is a resounding success).
IN SEASON NOW
cauliflower, kale, leeks, purple sprouting broccoli, salsify, spinach, spring onions, wild nettles
bananas (Windward) [i], kiwi fruit [i], lemons [i], oranges [i], passion fruit [i], rhubarb
sorrel
lamb
cockles, dover sole, gurnard, langoustine, lobster, mussels, oysters, red mullet, salmon, shrimp, whitebait, winkles
[i] denotes imported produce
For information on seasonal food in the USA or Canada, please visit our sister site.