UK seasonal food information, tips and recipe ideas, updated every week
SEASONAL FOOD OF THE WEEK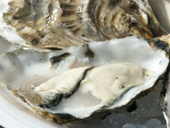 Eating raw oysters is a uniquely invigorating experience; a bit like battery-licking for grown-ups. It seems that we can taste the elements they contain: zinc, calcium, copper, iodine, magnesium. And no other food conjures up a physical feature of the Earth as strongly as a bracing, salty, tangy oyster: the essence of the sea in edible form.
IN SEASON NOW
artichoke, beetroot, broccoli, butternut squash, carrots, celeriac, celery, chillies, courgettes, cucumber, fennel, french beans, garlic, horseradish, kale, kohlrabi, leeks, lettuce & salad leaves, marrow, onions, pak choi, peppers, potatoes (maincrop), pumpkin, radishes, rocket, runner beans, shallots, spring onions, sweetcorn, tomatoes, truffles (black) [i], truffles (white) [i], turnips, watercress, wild mushrooms
apples, bilberries, blackberries, damsons, elderberries, figs [i], grapes [i], medlar, nectarines [i], peaches [i], pears, plums, quince, raspberries, redcurrants
chestnuts, chives, cob nuts, coriander, oregano, mint, parsley (curly), parsley (flat-leafed), rosemary, sage, sorrel, thyme, walnuts [i]
beef, duck, grouse, guinea fowl, hare, lamb, mallard, partridge, pheasant, rabbit, turkey, venison, wood pigeon
clams, cod, coley, crab, dab, dover sole, grey mullet, gurnard, haddock, halibut, hake, herring, lemon sole, mackerel, monkfish, mussels, oysters, pilchard, plaice, pollack, prawns, red mullet, sea bass (wild), sea bream, shrimp, squid, turbot, whelks, winkles
[i] denotes imported produce
For information on seasonal food in the USA or Canada, please visit our sister site.