UK seasonal food information, tips and recipe ideas, updated every week
SEASONAL FOOD OF THE WEEK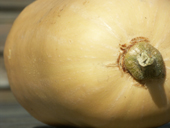 Butternut squash is one of the most popular and widely available forms of winter squash. Varying in shape from cylindrical to half-dumbell, its smooth tan exterior hides deliciously sweet, dense and buttery orange flesh.
IN SEASON NOW
artichoke, beetroot, broccoli, butternut squash, carrots, celeriac, celery, chillies, courgettes, cucumber, fennel, garlic, horseradish, kale, kohlrabi, leeks, lettuce & salad leaves, marrow, onions, parsnips, peppers, potatoes (maincrop), pumpkin, radishes, rocket, runner beans, shallots, swede, sweetcorn, tomatoes, truffles (black) [i], truffles (white) [i], turnips, watercress, wild mushrooms
apples, bilberries, blackberries, damsons, elderberries, figs [i], grapes [i], medlar, nectarines [i], pears, plums, quince, raspberries, redcurrants
chestnuts, chives, cob nuts, coriander, hazelnuts [i], oregano, parsley (curly), parsley (flat-leafed), rosemary, sage, sorrel, thyme, walnuts [i]
beef, duck, goose, grouse, guinea fowl, hare, lamb, mallard, partridge, pheasant, rabbit, turkey, venison, wood pigeon
clams, cod, coley, crab, dab, dover sole, grey mullet, gurnard, haddock, halibut, hake, herring, lemon sole, mackerel, monkfish, mussels, oysters, pilchard, plaice, pollack, prawns, red mullet, sea bass (wild), sea bream, shrimp, skate, squid, turbot, whelks, winkles
[i] denotes imported produce
For information on seasonal food in the USA or Canada, please visit our sister site.