UK seasonal food information, tips and recipe ideas, updated every week
SEASONAL FOOD OF THE WEEK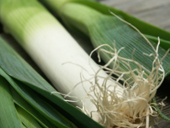 Leeks are related to garlic and onions but have a much subtler, sweeter and more sophisticated flavour. They can be used to enrich soups or stews and they partner brilliantly with potato and with cheese to form tasty side-dishes and suppers that comfort and satisfy throughout the autumn and winter.
IN SEASON NOW
brussels sprouts, cauliflower, celeriac, chicory, jerusalem artichoke, kale, kohlrabi, leeks, parsnips, potatoes (maincrop), purple sprouting broccoli, salsify, shallots, swede, truffles (black) [i], turnips
bananas (Windward) [i], blood oranges [i], clementines [i], kiwi fruit [i], lemons [i], oranges [i], passion fruit [i], pineapple [i], pomegranate [i], rhubarb
guinea fowl, hare, partridge, turkey, venison
clams, cockles, dab, dover sole, gurnard, haddock, halibut, hake, langoustine, lemon sole, lobster, mackerel, mussels, oysters, red mullet, salmon, scallops (queen), skate, turbot, winkles
[i] denotes imported produce
For information on seasonal food in the USA or Canada, please visit our sister site.