UK seasonal food information, tips and recipe ideas, updated every week
SEASONAL FOOD OF THE WEEK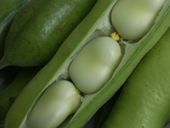 We love broad beans simply boiled, buttered and served with the Sunday roast. But they're much more versatile than that and seem to have a particular affinity for dishes using pork-based meats such as bacon, pancetta and chorizo.
IN SEASON NOW
artichoke, aubergine, beetroot, broad beans, broccoli, carrots, chillies, courgettes, cucumber, fennel, french beans, garlic, kohlrabi, lettuce & salad leaves, mangetout, new potatoes, onions, pak choi, peas, peppers, potatoes (maincrop), radishes, rocket, runner beans, spinach, spring onions, sweetcorn, tomatoes, turnips, watercress, wild nettles
apricots [i], bilberries, blueberries, cherries, gooseberries, greengages, kiwi fruit [i], loganberries, melons [i], nectarines [i], peaches [i], raspberries, redcurrants, strawberries
basil, chives, coriander, oregano, mint, parsley (curly), parsley (flat-leafed), rosemary, sage, sorrel, tarragon, thyme
beef, lamb, rabbit, venison, wood pigeon
cod, coley, crab, dab, dover sole, grey mullet, haddock, halibut, herring, langoustine, lemon sole, mackerel, plaice, pollack, prawns, salmon, sardines, scallops (queen), sea bass (wild), sea bream, sea trout, shrimp, squid, whelks, whitebait
[i] denotes imported produce
For information on seasonal food in the USA or Canada, please visit our sister site.