UK seasonal food information, tips and recipe ideas, updated every week
SEASONAL FOOD OF THE WEEK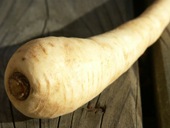 Pale yellow or ivory in colour and shaped like a slightly bulbous carrot, parsnips are one of the tastiest and most appealing root vegetables. Cheap and simple to prepare, their soft, fragrant, slightly sweet flesh adds a warm, comforting element to dishes.
IN SEASON NOW
brussels sprouts, cauliflower, celeriac, celery, chicory, horseradish, jerusalem artichoke, kale, kohlrabi, leeks, parsnips, potatoes (maincrop), salsify, shallots, swede, truffles (black) [i], turnips
blood oranges [i], clementines [i], kiwi fruit [i], lemons [i], oranges [i], passion fruit [i], pears, pineapple [i], pomegranate [i], rhubarb, satsumas [i], tangerines [i]
brazil nuts [i], walnuts [i]
guinea fowl, hare, mallard, partridge, turkey, venison
clams, cockles, dab, dover sole, gurnard, haddock, halibut, hake, langoustine, lemon sole, lobster, mackerel, mussels, oysters, red mullet, scallops (queen), sea bream, skate, turbot, winkles
[i] denotes imported produce
For information on seasonal food in the USA or Canada, please visit our sister site.