UK seasonal food information, tips and recipe ideas, updated every week
SEASONAL FOOD OF THE WEEK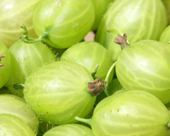 The British climate is particularly well-disposed to producing perfect gooseberries - juicy, tart and full-flavoured - and over the years they have captured the hearts of Britons more than any other nationality. More recently, however, the popularity of gooseberries has waned somewhat and their unique qualities don't seem to be valued as much as they merit. We think they're due for a revival.
IN SEASON NOW
artichoke, asparagus, aubergine, broad beans, broccoli, carrots, courgettes, fennel, french beans, garlic, jersey royal new potatoes, kohlrabi, lettuce & salad leaves, mangetout, new potatoes, onions, pak choi, peas, radishes, rocket, runner beans, samphire, spinach, spring onions, tomatoes, watercress, wild nettles
blueberries, cherries, gooseberries, kiwi fruit [i], strawberries
basil, chervil, chives, coriander, dill, elderflowers, oregano, mint, nasturtium, parsley (curly), parsley (flat-leafed), rosemary, sage, sorrel, tarragon, thyme
lamb, wood pigeon
cod, coley, crab, haddock, halibut, herring, langoustine, plaice, pollack, prawns, salmon, sardines, scallops (queen), sea bream, sea trout, shrimp, whelks, whitebait
[i] denotes imported produce
For information on seasonal food in the USA or Canada, please visit our sister site.