UK seasonal food information, tips and recipe ideas, updated every week
SEASONAL FOOD OF THE WEEK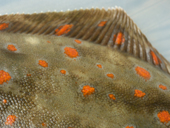 The humble plaice has long been popular in the UK, although it is largely overlooked in higher-end gastronomy and very rarely features on the menus of top restaurants. This is perhaps due to its historical associations as a food for the poor, or because of the connotations of bland deep-fried breaded plaice served in lazy pubs and motorway service stations across the country.
IN SEASON NOW
asparagus, broad beans, broccoli, carrots, fennel, jersey royal new potatoes, lettuce & salad leaves, new potatoes, peas, radishes, rocket, samphire, spinach, spring onions, watercress, wild nettles
kiwi fruit [i], rhubarb, strawberries
basil, chervil, chives, coriander, dill, elderflowers, oregano, mint, nasturtium, parsley (curly), parsley (flat-leafed), rosemary, sage, sorrel, tarragon, thyme
lamb, wood pigeon
cod, coley, crab, haddock, herring, langoustine, plaice, pollack, prawns, salmon, sardines, scallops (queen), sea trout, shrimp, whelks, whitebait
[i] denotes imported produce
For information on seasonal food in the USA or Canada, please visit our sister site.