UK seasonal food information, tips and recipe ideas, updated every week
SEASONAL FOOD OF THE WEEK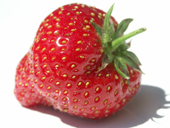 Synonymous with summer, the British strawberry season begins with the arrival of early season fruit grown under cover. Imported strawberries, now sold for most of the year, are picked whilst slightly under-ripe to ensure that they don't turn into mush during transportation. However strawberries do not ripen after being picked and so imported strawberries are often hard and have an undeveloped flavour - a pale imitation of in-season British strawberries.
IN SEASON NOW
asparagus, broccoli, carrots, jersey royal new potatoes, lettuce & salad leaves, new potatoes, peas, radishes, rocket, samphire, spinach, spring onions, watercress, wild nettles
kiwi fruit [i], rhubarb, strawberries
basil, chervil, chives, coriander, dill, elderflowers, oregano, mint, nasturtium, parsley (curly), parsley (flat-leafed), rosemary, sage, sorrel, tarragon
lamb, wood pigeon
cod, coley, crab, haddock, langoustine, plaice, pollack, prawns, salmon, sardines, sea trout, shrimp, whelks, whitebait
[i] denotes imported produce
For information on seasonal food in the USA or Canada, please visit our sister site.