UK seasonal food information, tips and recipe ideas, updated every week
SEASONAL FOOD OF THE WEEK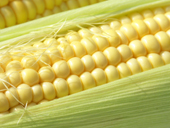 It seems that all food writers are required, at one time or another, to wax lyrical about the delights of a particular humble ingredient prepared in the simplest fashion. Now it's our turn.
For us, a just-boiled corn on the cob, speckled with freshly milled black pepper and rolled in melted butter is simply one of the greatest eating experiences available. Tinned or frozen sweetcorn can be tasty enough, but it doesn't compare to corn eaten straight from the cob, slathered with butter, when the crisp and succulent kernels explode with flavour in the mouth. There's no other food that regularly leaves us with burnt mouths because we can't wait for it to reach a reasonable temperature before tucking in.
IN SEASON NOW
artichoke, aubergine, beetroot, broad beans, broccoli, carrots, chillies, courgettes, cucumber, fennel, french beans, garlic, kohlrabi, leeks, lettuce & salad leaves, mangetout, marrow, onions, pak choi, peas, peppers, potatoes (maincrop), radishes, rocket, runner beans, spring onions, sweetcorn, tomatoes, turnips, watercress, wild mushrooms
apricots [i], bilberries, blackberries, blueberries, cherries, damsons, figs [i], greengages, loganberries, melons [i], nectarines [i], peaches [i], plums, raspberries, redcurrants, strawberries
basil, chives, coriander, oregano, mint, parsley (curly), parsley (flat-leafed), rosemary, sage, sorrel, tarragon, thyme
beef, grouse, hare, lamb, pheasant, rabbit, venison, wood pigeon
cod, coley, crab, dab, dover sole, grey mullet, haddock, halibut, herring, lemon sole, mackerel, monkfish, pilchard, plaice, pollack, prawns, red mullet, salmon, sardines, scallops (queen), sea bass (wild), sea bream, sea trout, shrimp, squid, turbot, whelks
[i] denotes imported produce
For information on seasonal food in the USA or Canada, please visit our sister site.