UK seasonal food information, tips and recipe ideas, updated every week
SEASONAL FOOD OF THE WEEK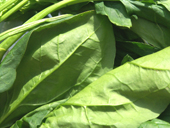 The distinctive, slightly bitter/metallic flavour of spinach makes it something of a 'love it or hate it' food. If you're in the 'love it' camp, try one of our suggested recipes and prepare to love it even more.
IN SEASON NOW
broccoli, jersey royal new potatoes, lettuce & salad leaves, purple sprouting broccoli, radishes, rocket, samphire, spinach, spring onions, watercress, wild nettles
bananas (Windward) [i], kiwi fruit [i], rhubarb
chives, dill, sorrel
lamb, wood pigeon
cockles, crab, langoustine, lobster, plaice, prawns, red mullet, salmon, sea trout, shrimp, whitebait
[i] denotes imported produce
For information on seasonal food in the USA or Canada, please visit our sister site.