UK seasonal food information, tips and recipe ideas, updated every week
SEASONAL FOOD OF THE WEEK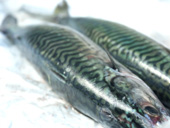 With its sparkling, silvery belly and iridescent blue-grey stripes, the mackerel is an eye-catching fish, almost showy. It's bound to be the subject of enviously dismissive gossip amongst shoals of less flashy sardine and cod.
IN SEASON NOW
cauliflower, celeriac, chicory, jerusalem artichoke, kale, kohlrabi, leeks, parsnips, potatoes (maincrop), purple sprouting broccoli, salsify, shallots, swede, truffles (black) [i]
bananas (Windward) [i], blood oranges [i], kiwi fruit [i], lemons [i], oranges [i], passion fruit [i], pineapple [i], pomegranate [i], rhubarb
guinea fowl, hare, turkey
cockles, dab, dover sole, gurnard, haddock, halibut, hake, langoustine, lemon sole, lobster, mackerel, mussels, oysters, red mullet, salmon, scallops (queen), shrimp, skate, winkles
[i] denotes imported produce
For information on seasonal food in the USA or Canada, please visit our sister site.