UK seasonal food information, tips and recipe ideas, updated every week
SEASONAL FOOD OF THE WEEK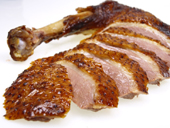 Before being usurped by turkey, goose was the preferred choice for the Christmas lunch table in England and more recently there are signs of it making a bit of a comeback. Goose meat is richer and darker than turkey. It has a higher fat content, but a lot of the fat melts away during cooking leaving deliciously tasty and succulent meat.
IN SEASON NOW
beetroot, brussels sprouts, cauliflower, celeriac, celery, chicory, horseradish, jerusalem artichoke, kale, kohlrabi, leeks, parsnips, potatoes (maincrop), salsify, shallots, swede, truffles (black) [i], truffles (white) [i], turnips, wild mushrooms
apples, clementines [i], cranberries [i], passion fruit [i], pears, pineapple [i], pomegranate [i], satsumas [i], tangerines [i]
almonds [i], brazil nuts [i], chestnuts, hazelnuts [i], walnuts [i]
duck, goose, grouse, guinea fowl, hare, mallard, partridge, pheasant, rabbit, turkey, venison
clams, cod, coley, dab, dover sole, gurnard, haddock, halibut, hake, langoustine, lemon sole, lobster, mackerel, monkfish, mussels, oysters, plaice, red mullet, scallops (queen), sea bass (wild), sea bream, skate, turbot, winkles
[i] denotes imported produce
For information on seasonal food in the USA or Canada, please visit our sister site.