UK seasonal food information, tips and recipe ideas, updated every week
SEASONAL FOOD OF THE WEEK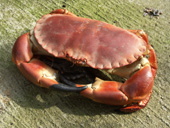 In sandwiches, with pasta, in salads, with chilli - there are a multitude of ways to enjoy this most versatile of seafoods. White crab meat (from the claws) rivals, or exceeds, lobster for flavour and succulence and needs very little fiddling with to create masterful dishes such as Crab Salad.
IN SEASON NOW
broccoli, cauliflower, leeks, purple sprouting broccoli, radishes, samphire, salsify, spinach, spring onions, watercress, wild nettles
bananas (Windward) [i], kiwi fruit [i], passion fruit [i], rhubarb
chives, sorrel
lamb
cockles, crab, langoustine, lobster, mussels, oysters, plaice, prawns, red mullet, salmon, sea trout, shrimp, whitebait
[i] denotes imported produce
For information on seasonal food in the USA or Canada, please visit our sister site.