UK seasonal food information, tips and recipe ideas, updated every week
SEASONAL FOOD OF THE WEEK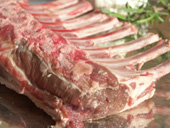 Cheap imported lamb from New Zealand may be available all year round, but in season British lamb is hard to beat. In May and June lamb is at its most tender but as the season progresses the flavour develops. Spring lamb is fantastic for roasting simply with garlic and herbs, autumn lamb is great when given a spicier, more adventurous treatment (see below for examples).
IN SEASON NOW
asparagus, broccoli, jersey royal new potatoes, lettuce & salad leaves, new potatoes, purple sprouting broccoli, radishes, rocket, samphire, spinach, spring onions, watercress, wild nettles
bananas (Windward) [i], kiwi fruit [i], rhubarb
basil, chervil, chives, dill, nasturtium, rosemary, sorrel, tarragon
lamb, wood pigeon
cod, coley, crab, haddock, langoustine, lobster, plaice, prawns, salmon, sea trout, shrimp, whelks, whitebait
[i] denotes imported produce
For information on seasonal food in the USA or Canada, please visit our sister site.