UK seasonal food information, tips and recipe ideas, updated every week
SEASONAL FOOD OF THE WEEK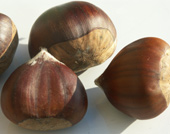 Our Top Three Chestnut Experiences:
Nibbling still crunchy, pleasantly bitter chestnuts picked from the ground during a wander in the park.

Following our nose to a stand on a London street (wet with rain and reflecting streetlamps like oil) and warming our fingers on a small (much smaller than last year) paper bag of roast chestnuts.

Tucking into special, rarely made treats like Chestnut and Chocolate Cake (see recipes).
IN SEASON NOW
artichoke, beetroot, butternut squash, cauliflower, celeriac, celery, chicory, horseradish, jerusalem artichoke, kale, kohlrabi, leeks, parsnips, potatoes (maincrop), pumpkin, salsify, shallots, swede, truffles (black) [i], truffles (white) [i], turnips, watercress, wild mushrooms
apples, clementines [i], cranberries [i], passion fruit [i], pears, pomegranate [i], quince, satsumas [i]
almonds [i], brazil nuts [i], chestnuts, cob nuts, hazelnuts [i], rosemary, sage, walnuts [i]
beef, duck, goose, grouse, guinea fowl, hare, lamb, mallard, partridge, pheasant, rabbit, turkey, venison, wood pigeon
clams, cod, coley, crab, dab, dover sole, gurnard, haddock, halibut, hake, lemon sole, lobster, mackerel, monkfish, mussels, oysters, plaice, pollack, red mullet, sea bass (wild), sea bream, skate, squid, turbot, winkles
[i] denotes imported produce
For information on seasonal food in the USA or Canada, please visit our sister site.