UK seasonal food information, tips and recipe ideas, updated every week
SEASONAL FOOD OF THE WEEK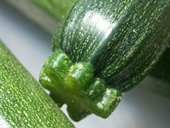 In cafés and simple restaurants across the UK, courgettes are frequently (mis)used to make a poor excuse of a ratatouille or the sort of unappetizing vegetable 'lasagne' only ever eaten by desperate vegetarians with no other menu choice. Courgettes (known as zucchini to Italians and Americans) are in fact beautifully tender vegetables with a fresh, delicate flavour. Try one of the fantastic recipes below and start the fight back against courgette abuse.
IN SEASON NOW
artichoke, asparagus, aubergine, broad beans, broccoli, carrots, courgettes, fennel, jersey royal new potatoes, lettuce & salad leaves, mangetout, new potatoes, onions, peas, radishes, rocket, runner beans, samphire, spinach, spring onions, tomatoes, watercress, wild nettles
kiwi fruit [i], strawberries
basil, chervil, chives, coriander, dill, elderflowers, oregano, mint, nasturtium, parsley (curly), parsley (flat-leafed), rosemary, sage, sorrel, tarragon, thyme
lamb, wood pigeon
cod, coley, crab, haddock, halibut, herring, langoustine, plaice, pollack, prawns, salmon, sardines, scallops (queen), sea bream, sea trout, shrimp, whelks, whitebait
[i] denotes imported produce
For information on seasonal food in the USA or Canada, please visit our sister site.