UK seasonal food information, tips and recipe ideas, updated every week
SEASONAL FOOD OF THE WEEK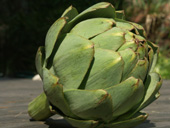 The artichoke isn't a food to choose when you need a fast food fix. It's a slow food to linger over. Patience shown in preparation and eating is ultimately rewarded by the subtly flavoured leaves and the mouthwatering artichoke heart. You can serve artichoke as a dish in its own right, with a bowl of vinaigrette or lemon butter for dipping. We prefer to use it as an ingredient, adding something special to a salad, pasta sauce or pizza topping.
IN SEASON NOW
artichoke, aubergine, beetroot, broad beans, broccoli, carrots, chillies, courgettes, cucumber, fennel, french beans, garlic, jersey royal new potatoes, kohlrabi, lettuce & salad leaves, mangetout, new potatoes, onions, pak choi, peas, radishes, rocket, runner beans, samphire, spinach, spring onions, sweetcorn, tomatoes, turnips, watercress, wild nettles
apricots [i], bilberries, blueberries, cherries, gooseberries, greengages, kiwi fruit [i], loganberries, melons [i], peaches [i], raspberries, redcurrants, strawberries
basil, chervil, chives, coriander, dill, oregano, mint, parsley (curly), parsley (flat-leafed), rosemary, sage, sorrel, tarragon, thyme
lamb, rabbit, venison, wood pigeon
cod, coley, crab, dab, dover sole, grey mullet, haddock, halibut, herring, langoustine, mackerel, plaice, pollack, prawns, salmon, sardines, scallops (queen), sea bass (wild), sea bream, sea trout, shrimp, squid, whelks, whitebait
[i] denotes imported produce
For information on seasonal food in the USA or Canada, please visit our sister site.