UK seasonal food information, tips and recipe ideas, updated every week
SEASONAL FOOD OF THE WEEK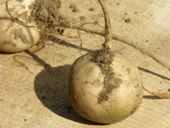 Turnips come in a variety of forms, the most widely available being the squashed globe shape with creamy coloured skin and a purple crown (where the turnip grew above the surface of the ground and was exposed to sunlight). They have a rounded flavour - sweet and slightly peppery - and are nutritionally rich.
IN SEASON NOW
beetroot, brussels sprouts, butternut squash, cauliflower, celeriac, celery, chicory, horseradish, jerusalem artichoke, kale, kohlrabi, leeks, parsnips, potatoes (maincrop), pumpkin, salsify, shallots, swede, truffles (black) [i], truffles (white) [i], turnips, wild mushrooms
apples, clementines [i], cranberries [i], passion fruit [i], pears, pineapple [i], pomegranate [i], quince, satsumas [i], tangerines [i]
almonds [i], brazil nuts [i], chestnuts, hazelnuts [i], sage, walnuts [i]
duck, goose, grouse, guinea fowl, hare, mallard, partridge, pheasant, rabbit, turkey, venison
clams, cod, coley, dab, dover sole, gurnard, haddock, halibut, hake, lemon sole, lobster, mackerel, monkfish, mussels, oysters, plaice, pollack, red mullet, scallops (queen), sea bass (wild), sea bream, skate, squid, turbot, winkles
[i] denotes imported produce
For information on seasonal food in the USA or Canada, please visit our sister site.