UK seasonal food information, tips and recipe ideas, updated every week
SEASONAL FOOD OF THE WEEK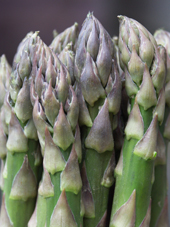 A serious contender for heavyweight champion of the eat the seasons year, the asparagus season is tantalizingly brief but the quality is frequently exceptional. Asparagus deteriorates relatively quickly after picking, which is why freshly picked English asparagus is to jet-lagged imported asparagus what dining at Le Manoir aux Quat'Saisons is to eating a microwaved frozen Chicken Tikka Masala on your lap in front of the TV.
IN SEASON NOW
asparagus, broccoli, jersey royal new potatoes, lettuce & salad leaves, new potatoes, radishes, rocket, samphire, spinach, spring onions, watercress, wild nettles
bananas (Windward) [i], kiwi fruit [i], rhubarb
basil, chervil, chives, coriander, dill, mint, nasturtium, parsley (curly), rosemary, sorrel, tarragon
lamb, wood pigeon
cod, coley, crab, haddock, langoustine, plaice, prawns, salmon, sardines, sea trout, shrimp, whelks, whitebait
[i] denotes imported produce
For information on seasonal food in the USA or Canada, please visit our sister site.