UK seasonal food information, tips and recipe ideas, updated every week
SEASONAL FOOD OF THE WEEK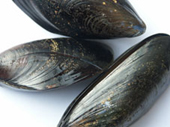 A thalassic design classic: turmeric-coloured morsels stunningly presented in raven shells. But they don't just look good. There's the wonderful percussive rhythm of mussels being gently shaken in the pan and poured into a large bowl. With head over the bowl you breathe in the tantalizing sea-fresh steam. Savour it. And then get to the task at hand; extracting succulent offerings from gaping shells and soaking up the fragrant broth with pieces of crusty-soft bread. THE complete sensory food experience.
IN SEASON NOW
cauliflower, celeriac, chicory, jerusalem artichoke, kale, leeks, parsnips, purple sprouting broccoli, salsify, shallots, spinach, spring onions, swede, truffles (black) [i], wild nettles
bananas (Windward) [i], blood oranges [i], kiwi fruit [i], lemons [i], oranges [i], passion fruit [i], pineapple [i], pomegranate [i], rhubarb
turkey
cockles, dab, dover sole, gurnard, hake, langoustine, lemon sole, lobster, mussels, oysters, red mullet, salmon, shrimp, skate, winkles
[i] denotes imported produce
For information on seasonal food in the USA or Canada, please visit our sister site.