UK seasonal food information, tips and recipe ideas, updated every week
SEASONAL FOOD OF THE WEEK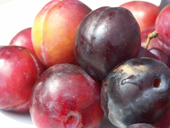 Plums come in many guises - tart or very sweet; for cooking or for eating; and in a range of rich hues from light greens and yellows to dark reds and purples. When we cooked Sugar Plums (see recipes) the golden orange flesh melted and mingled with the crimson skins to form a striking 'sunset on a plate' that tasted every bit as good as it looked.
IN SEASON NOW
artichoke, aubergine, beetroot, broad beans, broccoli, carrots, chillies, courgettes, cucumber, fennel, french beans, garlic, kohlrabi, leeks, lettuce & salad leaves, mangetout, marrow, onions, pak choi, peas, peppers, potatoes (maincrop), radishes, rocket, runner beans, spring onions, sweetcorn, tomatoes, turnips, watercress, wild mushrooms
apples, apricots [i], bilberries, blackberries, blueberries, cherries, damsons, figs [i], grapes [i], greengages, loganberries, melons [i], nectarines [i], peaches [i], plums, raspberries, redcurrants, strawberries
basil, chives, coriander, oregano, mint, parsley (curly), parsley (flat-leafed), rosemary, sage, sorrel, tarragon, thyme
beef, grouse, hare, lamb, pheasant, rabbit, venison, wood pigeon
cod, coley, crab, dab, dover sole, grey mullet, haddock, halibut, herring, lemon sole, mackerel, monkfish, pilchard, plaice, pollack, prawns, red mullet, salmon, sardines, sea bass (wild), sea bream, sea trout, shrimp, squid, turbot, whelks
[i] denotes imported produce
For information on seasonal food in the USA or Canada, please visit our sister site.