UK seasonal food information, tips and recipe ideas, updated every week
SEASONAL FOOD OF THE WEEK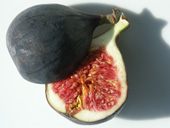 Winner of our best-shaped fruit award (runner up: bananas), figs also score highly on taste, texture and colour. They make very attractive starters (e.g. served with Parma or Serrano ham) and delicious desserts. Try them drizzled with honey and your choice of cinnamon, thyme and pistachios, then roasted and served with a dollop of mascarpone or crème fraiche. And they're a great addition to an after-dinner cheese board.
IN SEASON NOW
artichoke, beetroot, broccoli, butternut squash, celeriac, celery, chicory, chillies, fennel, garlic, horseradish, jerusalem artichoke, kale, kohlrabi, leeks, lettuce & salad leaves, marrow, parsnips, potatoes (maincrop), pumpkin, radishes, rocket, runner beans, salsify, shallots, swede, sweetcorn, tomatoes, truffles (black) [i], truffles (white) [i], turnips, watercress, wild mushrooms
apples, bilberries, blackberries, elderberries, figs [i], grapes [i], medlar, pears, quince
almonds [i], brazil nuts [i], chestnuts, chives, cob nuts, hazelnuts [i], parsley (curly), rosemary, sage, sorrel, thyme, walnuts [i]
beef, duck, goose, grouse, guinea fowl, hare, lamb, mallard, partridge, pheasant, rabbit, turkey, venison, wood pigeon
clams, cod, coley, crab, dab, dover sole, grey mullet, gurnard, haddock, halibut, hake, herring, lemon sole, lobster, mackerel, monkfish, mussels, oysters, pilchard, plaice, pollack, prawns, red mullet, sea bass (wild), sea bream, skate, squid, turbot, winkles
[i] denotes imported produce
For information on seasonal food in the USA or Canada, please visit our sister site.