UK seasonal food information, tips and recipe ideas, updated every week
SEASONAL FOOD OF THE WEEK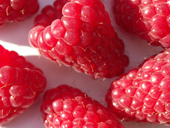 Vividly pink, exquisitely perfumed and very delicate, fresh raspberries are a real late summer treat. The overwhelming majority of raspberries sold in the UK are grown in Scotland where the long summer days help produce the most delicious berries.
IN SEASON NOW
artichoke, aubergine, beetroot, broad beans, broccoli, carrots, chillies, courgettes, fennel, french beans, garlic, jersey royal new potatoes, kohlrabi, lettuce & salad leaves, mangetout, new potatoes, onions, pak choi, peas, radishes, rocket, runner beans, samphire, spinach, spring onions, tomatoes, turnips, watercress, wild nettles
apricots [i], bilberries, blueberries, cherries, gooseberries, greengages, kiwi fruit [i], melons [i], peaches [i], strawberries
basil, chervil, chives, coriander, dill, elderflowers, oregano, mint, nasturtium, parsley (curly), parsley (flat-leafed), rosemary, sage, sorrel, tarragon, thyme
lamb, rabbit, wood pigeon
cod, coley, crab, dover sole, haddock, halibut, herring, langoustine, mackerel, plaice, pollack, prawns, salmon, sardines, scallops (queen), sea bream, sea trout, shrimp, squid, whelks, whitebait
[i] denotes imported produce
For information on seasonal food in the USA or Canada, please visit our sister site.