UK seasonal food information, tips and recipe ideas, updated every week
SEASONAL FOOD OF THE WEEK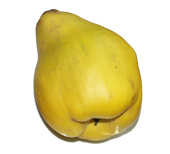 Resembling a lumpy pear, the ancient quince has become a bit of a forgotten fruit in recent times. This is perhaps because beneath the quince's distinctive golden yellow skin and alluring fragrance, its flesh is astringent and sour when raw. However, given some patient and gentle cooking, quince can be a delicious and distinctive addition to many dishes, both sweet and savoury.
IN SEASON NOW
artichoke, beetroot, butternut squash, celeriac, celery, chicory, chillies, horseradish, jerusalem artichoke, kale, kohlrabi, leeks, parsnips, potatoes (maincrop), pumpkin, salsify, shallots, swede, tomatoes, truffles (black) [i], truffles (white) [i], turnips, watercress, wild mushrooms
apples, cranberries [i], medlar, passion fruit [i], pears, pomegranate [i], quince
almonds [i], brazil nuts [i], chestnuts, cob nuts, hazelnuts [i], rosemary, sage, sorrel, walnuts [i]
beef, duck, goose, grouse, guinea fowl, hare, lamb, mallard, partridge, pheasant, rabbit, turkey, venison, wood pigeon
clams, cod, coley, crab, dab, dover sole, grey mullet, gurnard, haddock, halibut, hake, lemon sole, lobster, mackerel, monkfish, mussels, oysters, plaice, pollack, red mullet, sea bass (wild), sea bream, skate, squid, turbot, winkles
[i] denotes imported produce
For information on seasonal food in the USA or Canada, please visit our sister site.