UK seasonal food information, tips and recipe ideas, updated every week
SEASONAL FOOD OF THE WEEK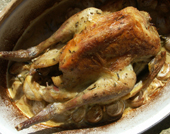 Guinea fowl makes a great alternative to chicken for a warming dinner on an autumn night. It has a lovely flavour that is slightly gamey but very subtle (much less assertive than pheasant or grouse). It can be magnificent when cooked simply or when combined with more robust flavours (try Baked Guinea Fowl with Garlic Beans and Smoked Sausage).
IN SEASON NOW
artichoke, aubergine, beetroot, broccoli, butternut squash, carrots, celeriac, celery, chillies, courgettes, cucumber, fennel, french beans, garlic, kohlrabi, leeks, lettuce & salad leaves, mangetout, marrow, onions, pak choi, peppers, potatoes (maincrop), radishes, rocket, runner beans, spring onions, sweetcorn, tomatoes, turnips, watercress, wild mushrooms
apples, apricots [i], bilberries, blackberries, damsons, elderberries, figs [i], grapes [i], melons [i], nectarines [i], peaches [i], pears, plums, raspberries, redcurrants
basil, chestnuts, chives, cob nuts, coriander, oregano, mint, parsley (curly), parsley (flat-leafed), rosemary, sage, sorrel, tarragon, thyme
beef, grouse, guinea fowl, hare, lamb, pheasant, rabbit, turkey, venison, wood pigeon
clams, cod, coley, crab, dab, dover sole, grey mullet, haddock, halibut, hake, herring, lemon sole, mackerel, monkfish, mussels, oysters, pilchard, plaice, pollack, prawns, red mullet, sardines, sea bass (wild), sea bream, shrimp, squid, turbot, whelks
[i] denotes imported produce
For information on seasonal food in the USA or Canada, please visit our sister site.